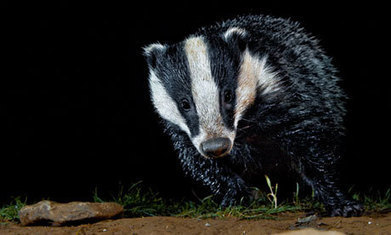 Campaigners for badgers are mobilising to disrupt night-time shoots, as the 1 June start date approaches
Gordon McGlone's insight:
The Background
Professor Krebbs, architect of the Randomised Badger Control Trial (RBCT), has stated:–
"I would say the economics is very close as to whether it is worth it. But the government has made a decision that (it should be tried if farmers are willing to fund it)," he said.
"The question (then) is: 'Is it a significant effect? Is it cost effective? Is it socially and ethically appropriate?"
The Politics:-
||Sources have told the Guardian that David Cameron has made clear to the environment secretary, Owen Paterson, that another U-turn on the culls is unacceptable and that Paterson's job is at stake. An insider said that key officials in the Department for Environment, Food and Rural Affairs (Defra) are "pale with worry".||
The Policy:-
||England's highly controversial badger culls risk illegally wiping out every badger in the cull zones because the animals' numbers are so poorly known, according to one of the UK's leading badger experts.||
The Science:-
||Prof Woodroffe, a member of the Independent Science Group that evaluated the RBCT, said: "The difficulty of counting badgers is the Achilles heel of the policy." Woodroffe was a key member of the team that spent a decade and £50m culling 11,000 badgers before concluding that culling could make "no meaningful contribution" to reducing bovine TB. She said: "Badger numbers halted the cull in October and could still be the thing which makes the cull unworkable. That is completely plausible."||
The Activists:-
||Activists are gearing up to disrupt the pilot culls, using vuvuzelas and bright torches to frighten badgers away. "Whenever it happens we'll be ready – it'll be like an army," said Joe Thomas of Bristol Hunt Saboteurs. "The number of new volunteers has been astronomical and they are not your normal animal-rights people, it's everyday, ordinary people who are preparing to help."||
The Costs:-
The Telegraph has reported estimates that policing costs alone for the Gloucestershire and Somerset culls may exceed the £4M, on top of the legal challenges and the various unsatisfactory surveys of badger numbers
My Conclusion:-
A crazy scheme, not an original thought – but the evidence is stacking up that the pilot culls make no sense scientifically, are not going to be cost effective, have huge public opposition and are a guaranteed vote loser for a government that does not have surety of touch.
See on www.guardian.co.uk